NEWS
Understanding the NEMA 3R Weather-Resistant Standard for Enclosures
Date Posted: September 21, 2023
NEMA ratings, developed by the National Electrical Manufacturers Association (NEMA), are crucial to the electrical enclosure industry. These ratings classify the different degrees of protection enclosures offer against various environmental conditions such as rain, wind, and snow. Knowing the nuances of these ratings is essential when choosing enclosures to protect sensitive equipment. StrongBox works diligently to meet these standards; one example is our NEMA 3R-rated enclosures.
NEMA defines a 3R-rated enclosure as:
"Enclosures constructed for either indoor or outdoor use to provide a degree of protection to personnel against incidental contact with the enclosed equipment. To provide a degree of protection against falling dirt, rain, sleet, and snow; and that will be undamaged by the external formation of ice on the enclosure."
When to Choose NEMA 3R-Rated Enclosures
NEMA 3R enclosures are often used for indoor and outdoor enclosures in environments with generally mild weather conditions, ensuring that sensitive equipment remains functional in these conditions. They are ideal for outdoor environments where exposure to rain and sleet is common, but hose-directed water, oil, or dust are not a concern. NEMA 3R enclosures are a popular, cost-effective option for applications where a higher rating is not needed, like community parks, highways, and railways.
These enclosures offer protection from: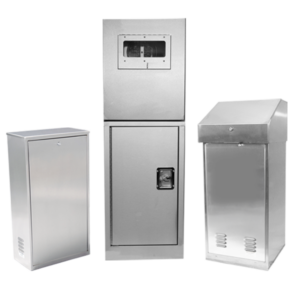 Rain, sleet, and snow
External ice formation
Falling dirt and rockslides
Splashing or dripping water
Accidental contact with objects or people
StrongBox NEMA 3R-rated enclosures are often used to protect sprinkler systems controls, electrical meter applications, traffic system controls, lighting for parking lots, HVAC controls, outdoor telecom systems, and outdoor power distribution.
What Does the 3R Standard Mean?
It's important to note that the 3R standard is not rain-tight or water-tight, which means that beating rain or a stream of water may result in water entering the enclosure under certain conditions. If your application requires a water-tight, dust-tight seal, contact StrongBox about our NEMA 4X product line.
Even though the 3R standard allows some water or condensation to enter an enclosure, drainage holes in the bottom allow this moisture to escape before it can interfere with the electronics inside.
Many NEMA 3R enclosures also include louvers on both sides to ensure cross-flow ventilation, which is especially important in warmer climates. This keeps air flowing and keeps what's inside the enclosure cool. StrongBox NEMA 3R-rated enclosures include built-in louvers with filters to keep out bugs, larger dust particles, and dirt while maintaining proper ventilation and air circulation. Although not required by the NEMA 3R standard, StrongBox enclosures also include a hydrophobic gasket around door openings to help seal out unwanted particles and water.
How to Determine the Best NEMA Rating for Your Application
The level of protection needed depends on where the enclosure will be installed and the type of environmental conditions the enclosure will face. Different conditions call for different NEMA ratings, such as hose-directed water flow, submersion in water, corrosive environments such as industrial chemicals and salt water, and windblown dust and dirt. The chart below can help you determine the best NEMA rating for your project.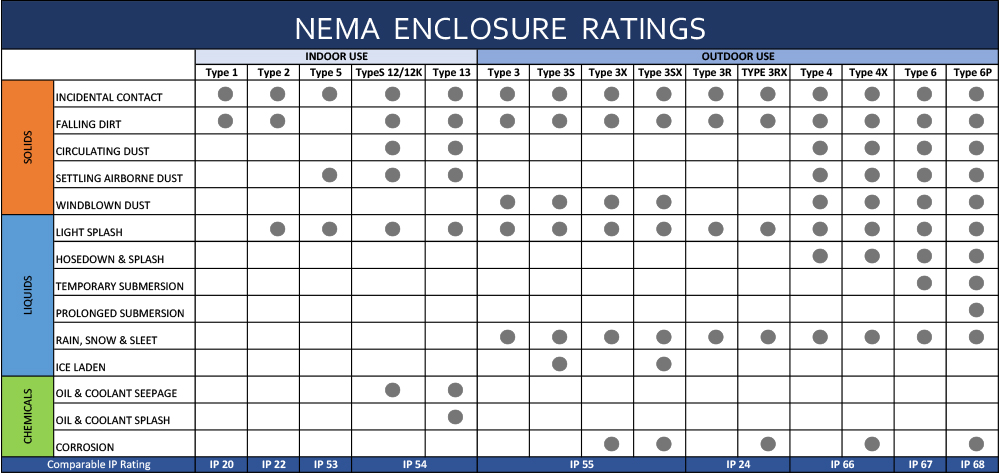 For more information on finding the right NEMA-rated enclosures, contact us online or call 760.735.2450